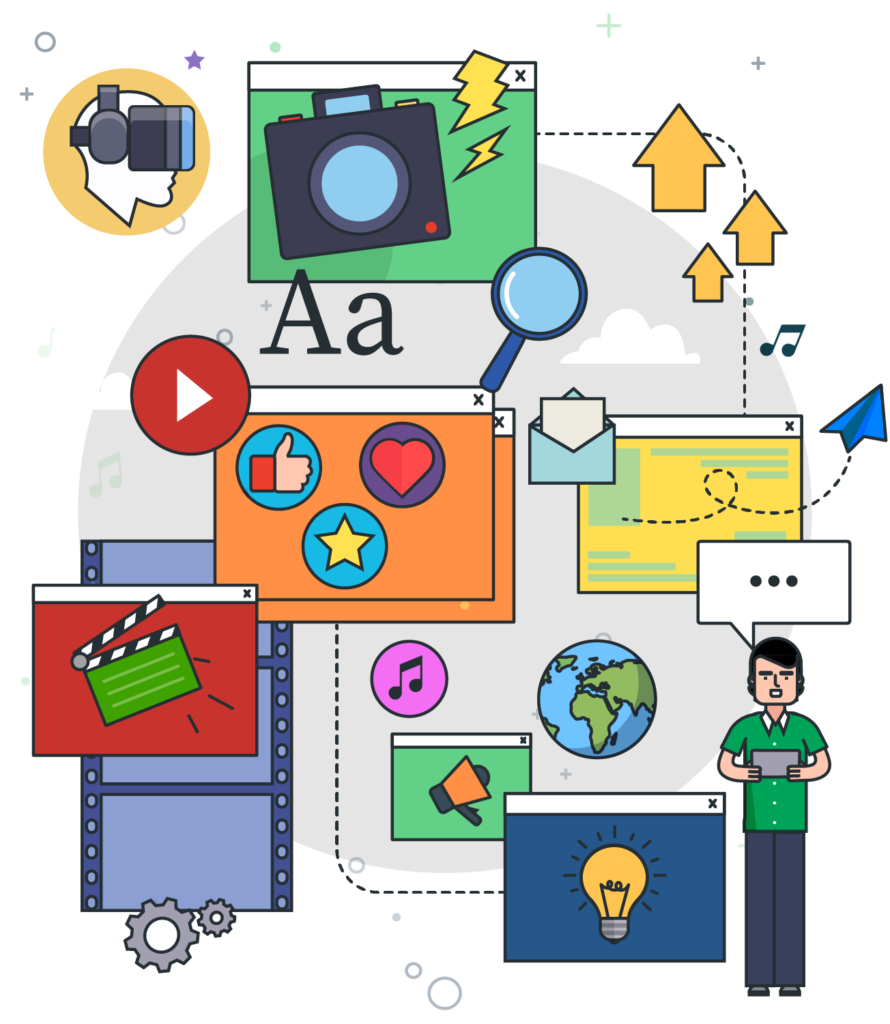 Value Added Training Solutions
Activica is the ultimate one-stop shop for the most cost-effective training solutions.
Let us help you prepare your most valuable assets by providing training solutions tied to your company's needs, strengthening your business performance.
Activica Training Solutions incorporate best practices and accelerate time to value with flexible customer solutions tailored to individual project requirements and broader business initiatives. The following is our complete service offerings:
Rapid eLearning
Consists primarily of text and still images that support stated objectives –i.e., a "page turner" with linear progression. Includes simple, functional interactions, limited audio and graphics and allows for questions and feedback. Limited interaction, such as knowledge checks, may be included.
Small Private Online Course (e.g. Corporate MOOC)
An online course for asynchronous participation and open access via an Intranet (internal to the client). In addition to traditional course materials, such as recorded lectures, "homework" assignments, and problem sets, SPOCs provide interactive user forums to support community interactions among employees, instructors/facilitators, and Subject Matter Experts (SMEs). Multiple media can be combined to create an effective and engaging SPOC.
Learning Management System
A Learning Management System (LMS) is software that automates management of training events. An LMS allows for user self registration on training programs, keeps records of learners' performance and delivers reports for managing the organization. Activica Cloud LMS® is fully scalable and adapts easily to your company's needs, reflecting its corporate identity and providing measurable results which will positively impact your business performance.
360° Feedback Surveys
Create 360-degree feedback surveys online with Actívica's multi-feedback tool in a few, simple steps. Unlike traditional performance reviews, the information gathered in a person's Multifeedbak 360 survey comes from all angles and is completely anonymous, allowing for a positive impact in everyone's life in and out of work.
Graphic & Multimedia Design
Create high-quality graphic elements for use in digital or instructor-led training courses and printed materials, including graphics for motion graphic video, infographics, 3D-modeling, templates, and user interfaces.
Virtual Reality
Integrate a computer technology that uses virtual reality headsets (i.e., Google Cardboard and Oculus) or multi-projected environments, sometimes in combination with physical environments or props, to generate realistic images, sounds, and other sensations that simulate a user's physical presence in a virtual or imaginary environment.
Elearning Programming
Actívica helps you:
provide technical support services
develop software tools and user on-line applications support.
modify software to assure optimum performance.
analyze and evaluate software for requirements.
write programs and/or scripts for web-based and computer-based training modules used for on-line e-learning requirements.
write user guides and training manuals.
Audio Production
Voiceover for eLearning or other digital learning resources, PodCasts, etc. Includes audio consulting, audio planning, audio production, and audio editing. Could also include creating and recording content for audio libraries. Actívica supports:
American English
Canadian English
British English
Rioplatense Spanish
Neutro Spanish
European Spanish
European French
Canadian French
Brazilian Portuguese
Project Management
Actívica project management capabilities apply to large projects requiring a project manager's complete attention and serve as a single point of contact and interfaces with all areas affected by the project including end users, computer services, and client services. These project management duties include, but are not limited to:
refining requirements
coordinating projects
developing plans and schedules
managing resources
obtaining business approvals
developing specifications and risk management plans
tracking identified risks
providing technical and analytical guidance to project team.
Instructional Design
After defining goals and content, Actívica Instructional Designers (IDs) ensure the training course is relevant, concise, and effective. Harnessing the potential of multimedia technology, instructional scripts—or storyboards—are written following a learner-centered approach that places the learner right in the middle of the eLearning experience. The goal is to motivate learners, which facilitates their retention and prompts them to apply the acquired knowledge in real-world scenarios.
Virtual Instructor-Led Training
Develop course content for virtual instructor-led delivery via Skype or similar tool (i.e Zoom, Webex). Deliverables include leader presentation, leader guide, participant guide, and supporting documents. Deliverables can be printed or delivered as an eGuide. Content should be developed including interactivities to assist in teaching and checking the knowledge. Deliverables might need to be interchangeable for instructor and/or virtual instructor-led.
Instructor-Led Training
Develop course content for instructor-led delivery. Deliverables can include leader presentation, leader guide, participant guide, and supporting documents. Deliverables can be printed or delivered as an eGuide. Content should be developed including interactivities to assist in teaching and checking the knowledge. Deliverables might need to be interchangeable for instructor and/or virtual instructor-led.
Technical Writing / Copy Editing
Edit and further craft content to provide a knowledge base that is easily readable, highly usable, and broadly consistent. Apply plain language and clear writing principles.
Translation Services
Since it is not a word-for-word process, translation involves identifying the main concepts in the source document (typically English) and rewriting them in the target language so that they convey the same style, form and content. It should appear to the target audience as though the document was originally written in the target language. Every translation is always completed using native speakers working into their native language. Translators shall proofread their documents to check spelling and grammar before final delivery. Languages supported: American English, Canadian English, British English, Rioplatense Spanish, Neutro Spanish, European Spanish, European French, Canadian French & Portuguese.
Desktop Publishing
Activica will retype translations into complex documents like brochures, manuals, posters, and other material. Graphic designers manipulate typography, photography, art, and publication design. DTP usually requires publishing software like the Adobe Suite (InDesign, Illustrator, Acrobat & Photoshop).
Audio & Video Transcription
A transcript is the text version of all of the words spoken in a video or audio file. Activica creates a transcript by carefully watching and listening to the recorded piece –several times– and typing out every word that is spoken or shown on screen (for videos).
Learning Content Maintenance
When an existing Learning Object requires maintenance, Actívica will update it based on the level of maintenance required and content media. Could also include converting the LO to a current version of the authoring tool (e.g., Articulate Storyline, Rise 360, Captivate, Camtasia), a technology upgrade (e.g., Adobe Flash to HTML5) and language adaptations (based on translated texts and media).
Video & Animation Production
Includes video/animation consulting, planning, production, and editing.
Let's get this conversation started.
Please complete the form and our sales team will be happy to set up a meeting with you. Thanks!