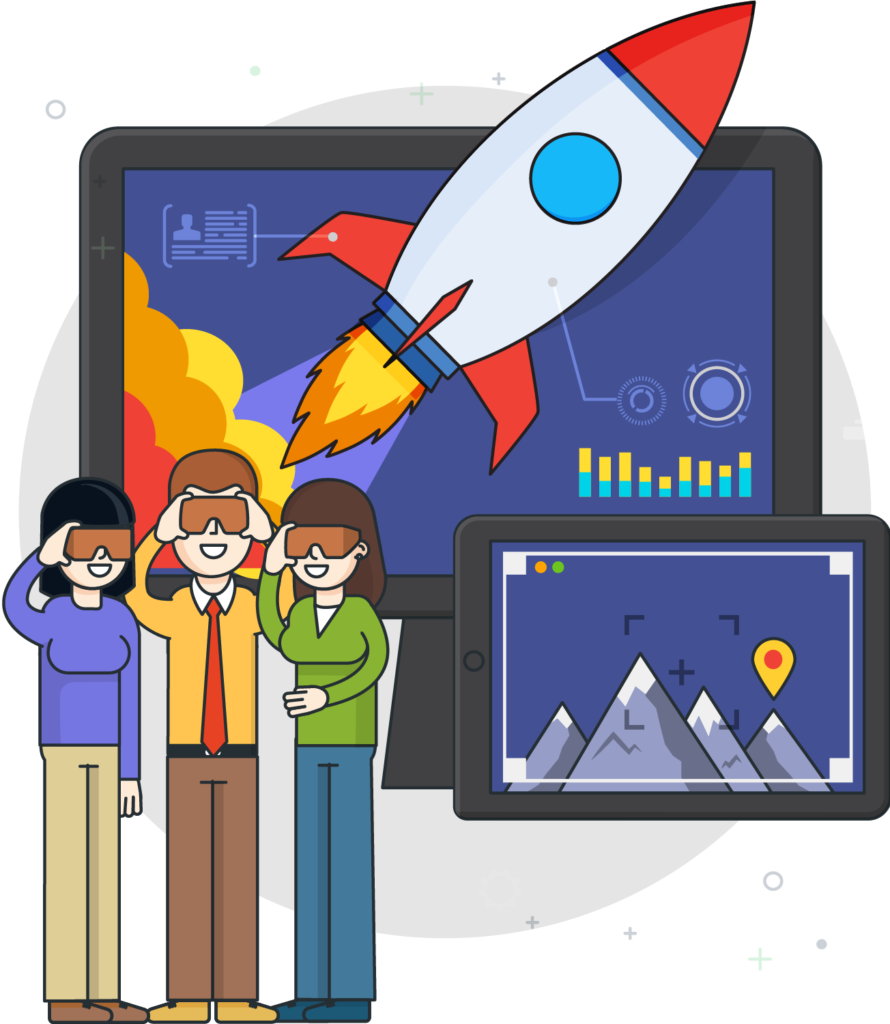 Business Games & Sims
Activica has created a series of business games and simulations specifically designed for the development of workplace core competencies.
Through the intensive use of narrative and gamified techniques, users must face some common situations at the workplace presented in a safe and risk-free environment.
Games & simulations designed for improving skills such as Negotiation, Leadership, Compliance, and Management.
Clocking In
Clocking In is part of our unique and original group of business games. It is set in the middle ages, at the exact time a great inventor discovers how to make the first mechanical clock in history. Participants put themselves in the shoes of the inventor to fulfill the mission: sell clocks to the King. To achieve this, the inventor develops his skills as a negotiator, obtains raw materials, builds clocks, and sells them. This way, participants level up by responding to different interactions with suppliers and earn points as a negotiator.
Development Skills:
Continuous learning
Effective Communication
Handling Conflicts
Impact and Influence
Innovation and Creativity
Integration
Negotiation
Problem Solving
Self-Confidence and Self-Control
Self-Consciousness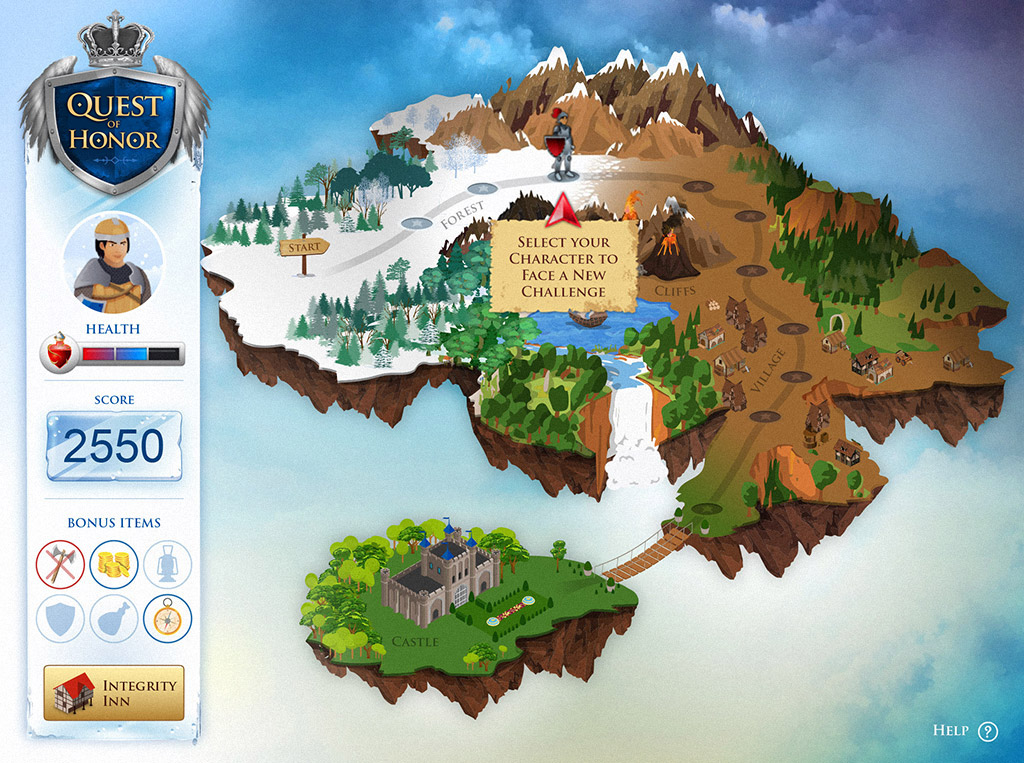 Quest of Honor
Life in the Castle of Order is warm and peaceful for all of its inhabitants. However, in the distant Kingdom of Corruption, tensions begin to rise, creating a devastating effect on all of Middle Earth. Participants personify a warrior summoned by King Holman, the Honorable One, with the aim of gathering troops to fight alongside him against the Lord of Corruption, and thus save Middle Earth. The mission is to guide the King's troops to safety, dodging the great dangers and challenges that appear along the way. To achieve this and reach the end of the game, participants use the manuscript as a guide for the kingdom's Code of Ethics and Conduct, a holy book that serves as a basis for acting with integrity.
Development Skills:
Analytical Thought
Continuous Learning
Decision Making
Integration
Leadership
Search for Information
Self-Consciousness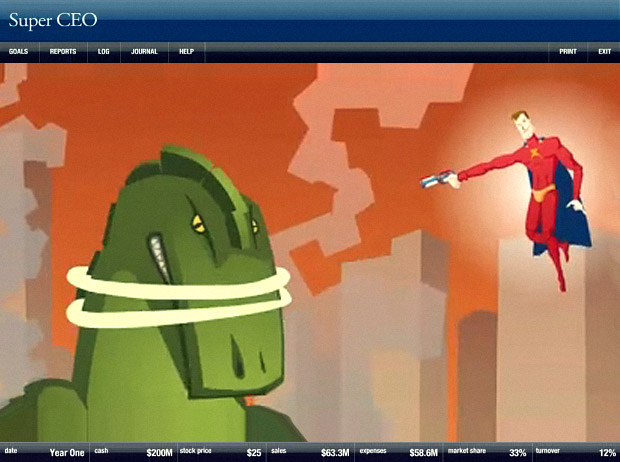 Super CEO
In this game, participants have the opportunity to be the CEO of HERO, a company looking to be the favorite of public opinion and reposition itself as #1 in the market. During 3 years of management, participants make decisions that will play a fundamental role in business development, putting their Management and Leadership skills into practice. Over the course of the game, the CEO receives visits from directors of each area of the company, who offer advice to consider before you make decisions. This game contains real-time business indicators, such as sales, market shares, employee turnover, expenses, etc. These indicators increase or decrease according to the decisions made by participants.
Development Skills:
Analytical Thought
Continuous Learning
Decision Making
Effective Communication
Leadership
Negotiation
Self-Confidence and Self-Control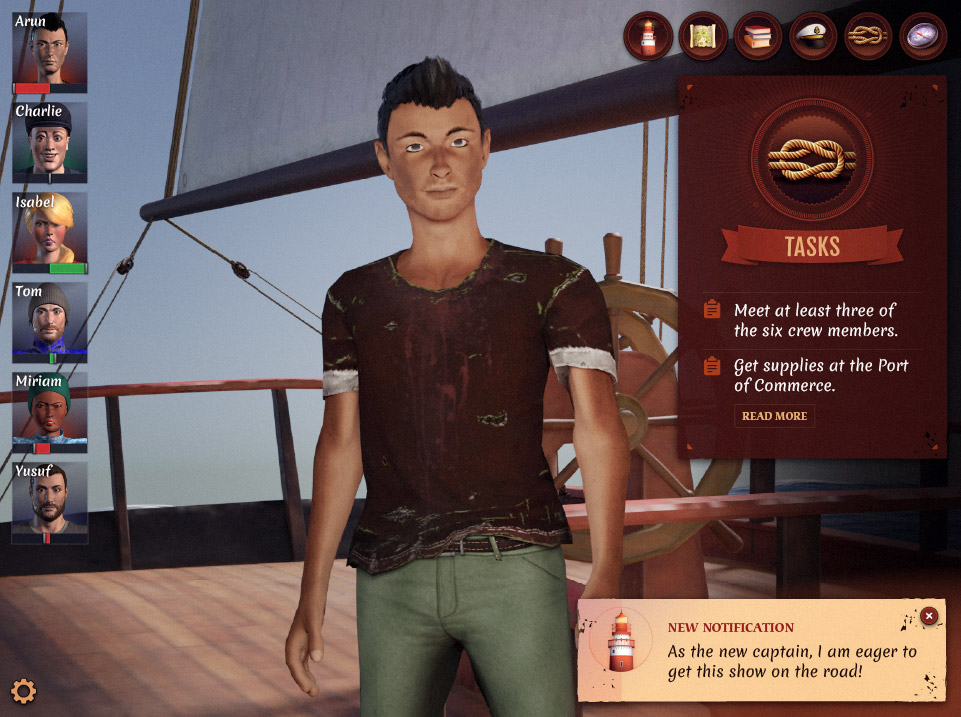 The Legend of the Teal Ocean
Starting with a mission to find the Teal Ocean, you'll go on a virtual journey at sea, where the crew members onboard represent the people you lead in real life. Just like in real life, the people you lead may not always react in the way you had intended or hoped for! At least not until you figure out what makes each of them tick. As you interact with other characters and discover secret objects, your decisions and actions have consequences and influence how the game advances. As the journey progresses, you'll discover new adventures, each representing a different leadership theme.

The Legend of the Teal Ocean combines playful in-game insights with real-life reflection assignments, along with additional resources in a Knowledge Library that direct the player to theories, models, and concepts underpinning contemporary leadership. A short self-assessment quiz provides a personalized snapshot of the learner's proficiency at the end of each game level. Do you have what it takes to conquer The Legend of the Teal Ocean?
Development Skills:
Continuous learning
Self-confidence and self-control
Effective Communication
Analytical Thought
Decision Taking
Leadership
Handling Conflicts
Impact and Influence
Negotiation
What are our pre-build skill-based games like?

Designed for multiple devices, 100% SCORM-compliant, and portable between LMS platforms.
Developed using specific gamification tools to promote the integration of new concepts with participants' prior knowledge.
Based on situations that drive participants to solve problems, reflect, and overcome challenges through decision-making.
Let's get this conversation started.
Please complete the form and our sales team will be happy to set up a meeting with you. Thanks!